The University Report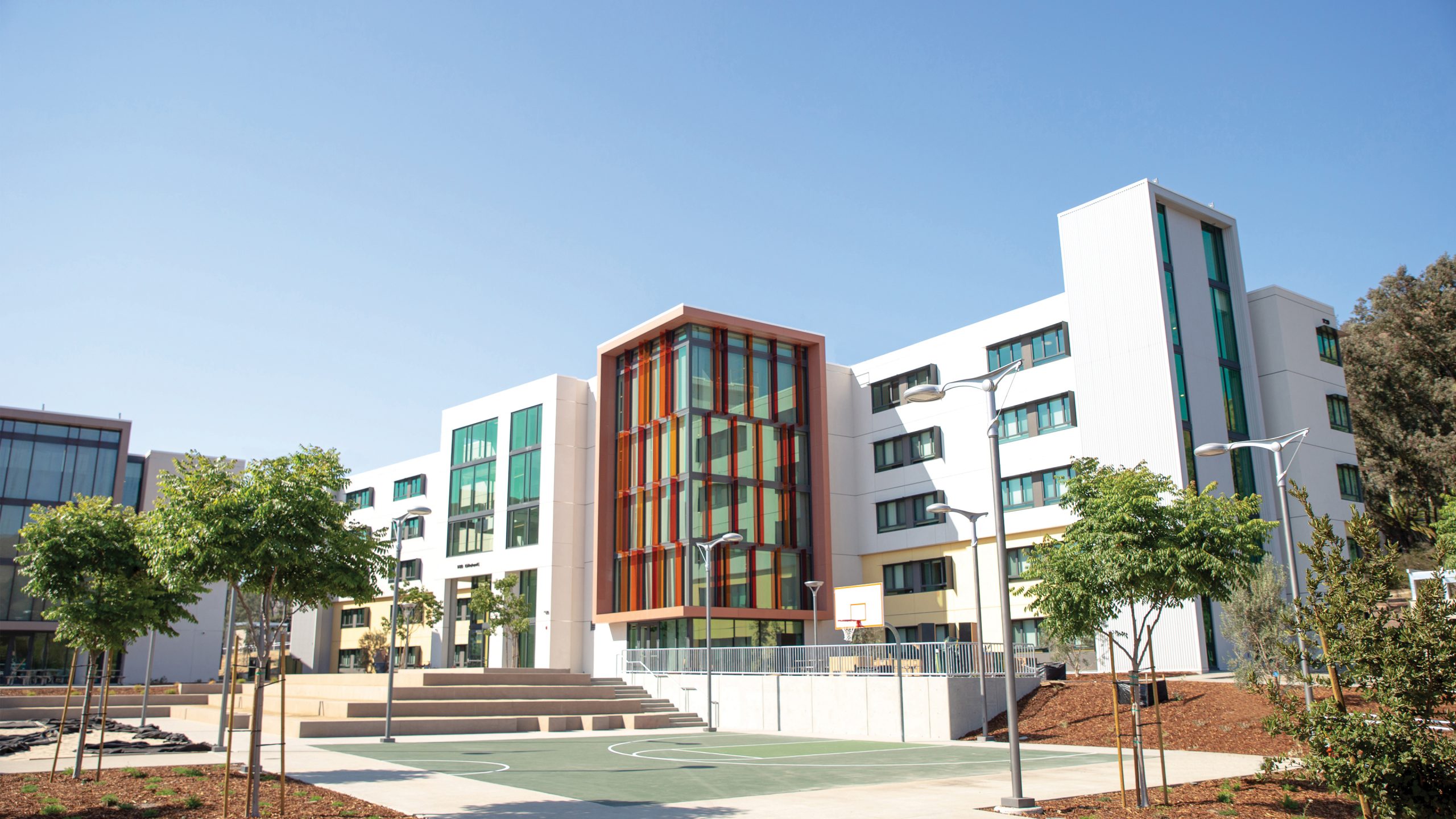 This past year has been a transformative time for Cal Poly. From massive facilities projects completed, to new records set by an outstanding incoming class, to a reawakened commitment to a more inclusive campus community, 2018 was a pivotal moment that will redefine the future of Cal Poly.
---
Outstanding Reputation

For the 26th year in a row, Cal Poly was named U.S. News and World Report's best public master's-level university in the western U.S., and 12th overall, public and private. Forbes named Cal Poly the best public master's-level university in California and recognized Mustangs among the highest-earning graduates in the nation.
Rankings
#1
Best public master's-level university in the West

—U.S.News

#12
Overall rank among all institutions in the West
This outstanding reputation has yielded an historic class of first-year students. The cohort that began in Fall 2018, selected from a record-breaking 65,500 applicants, boasted an all-time high incoming GPA of 4.0, with an average ACT score of 29.
"It was the highest quality applicant pool ever," said James Maraviglia, Cal Poly's vice provost for enrollment development and chief marketing officer. "The most difficult thing about it is having to turn away so many outstanding students."
Diversity and Inclusion

Several incidents of racism at Cal Poly in 2018 led to a renewed focus on the issue of diversity and inclusion. In response to these negative situations, an unprecedented number of students, faculty and staff banded together in a series of peaceful demonstrations, town hall meetings and discussion groups to demand and plan for a more inclusive campus community.
The Office of University Diversity and Inclusion spearheaded an initiative called "Collective Impact," bringing together a collection of volunteer working groups composed of faculty, staff and students from across campus who met regularly to discuss issues and generate ideas on how to expand campus diversity and promote a more inclusive culture. These groups began meeting in fall of 2017, and in the summer of 2018 completed a report with their recommendations, which were presented to the university's Inclusive Excellence Council in the fall.
The university established a team of staff members to quickly respond to any future incidents of discrimination with appropriate action. Other steps already in the works to prevent bias incidents before they happen include a robust cross-cultural component to Week of Welcome (WOW); enhanced cultural and bias training for WOW leaders and new students; and a new commitment to inclusion as a structured component of Greek life.
As a way to more thoroughly infuse diversity and inclusion into curriculum across the university, Academic Affairs has launched an effort to be more proactive in hiring faculty with expertise in those topics. So far, at least one cohort of new tenure-track professors have been hired to help bring this expertise into the classroom.
"One of the biggest lessons we learned this year was that we need to do a better job of communicating the work that we're doing to build a more inclusive campus," said Jozi de Leon, vice president for diversity and inclusion. "It's important that people know how seriously we take this work."
Perhaps the highest-impact new policy aimed at fostering a more diverse campus is the Cal Poly Opportunity Fee, unveiled by President Jeffrey D. Armstrong this year and targeted for implementation in 2019. Funds generated from a fee for new out-of-state students will be used to expand scholarships and academic support for qualified low-income and first-generation undergrads from California. The intention is that the added support will enable a broader range of students who are academically qualified for admission to say yes to a Cal Poly education.
Reshaping Campus

This year saw the campus transformed with the completion of several major facilities projects.
The most notable was a massive undertaking to upgrade the freshman housing experience with the yakʔitʸutʸu residential community. The project, named for the Northern Chumash words meaning "our community," was designed to celebrate the culture of the first inhabitants of the Central Coast. The project opened at the beginning of the 2018-2019 academic year and houses more than 1,400 first-year students across seven new buildings near the main campus entrance. The project was gold-certified for leadership in energy and environmental design by the U.S. Green Building Council. With a total construction cost of $164 million, yakʔitʸutʸu is one of the largest facilities projects ever undertaken at Cal Poly.
In January, Cal Poly dedicated a new 4,500-kilowatt solar farm at the western edge of campus. The facility is now providing for approximately a quarter of Cal Poly's energy needs of using the most abundant source of renewable energy: San Luis Obispo's nearly year-round supply of sunny days.
The university also completed the new Oppenheimer Family Equine Center, a complex at the campus summit that includes a 60,000 square foot covered riding arena and new stallion and foaling barns; and new athletic facilities including the state-of-the-art Doerr Family Field and Miller and Capriotti Athletics Complex.
yakʔitʸutʸu
Residential Community
beds for first-year students
buildings based on common programs or interests
New university welcome center
New adjacent parking structure
Named in honor of the northern Chumash indigenous people
Going International
This year Cal Poly sent more students abroad for distinctive international study experiences than ever before. That boost in international education earned notice from the Institute of International Education, which named Cal Poly the third-best master's-level institution in the nation for study abroad participation. About one in four Cal Poly students takes advantage of the opportunity to study abroad, compared with a U.S. average of one in 10.
"Studying abroad provides rich opportunities for students to enhance their education and to prepare for work and life in a global society," said Cari Vanderkar, director of Cal Poly's International Center. "Learn by Doing in a global context activates Cal Poly students to be positive forces in the world."
Removing Barriers to Graduation

This year saw the realization of several key goals as the university seeks to streamline the path from first year to graduation by removing barriers that delay students from completing their educational goals.
One of the simplest barriers to eliminate was reducing the threshold for students who have a hold on their registration based on outstanding tuition balances. Previously, nearly 80 percent of students experiencing financial holds on enrollment were over relatively trivial amounts.
Last year Cal Poly expanded a policy called freshman block scheduling, a way to ensure that first-year students get the classes they need by enrolling them automatically and providing them with their individual schedules.
Block scheduling has gone hand-in-hand with an effort to use data analysis to anticipate student academic needs. Teams of data experts from across campus are working to examine demand and capacity trends among academic departments to make earlier and more informed decisions about where to put more resources and faculty.
Cal Poly's academic success resources have developed over the years in different administrative units of the university in response to specific needs as they've arisen. The university has been working to intentionally connect those resources and provide a single access point for support services for all students.
As a next step, this year Cal Poly's Academic Senate kicked off a vigorous and long-overdue effort to revise and re-envision the university's general education (GE) program. One of the most exciting ideas coming out of these early planning stages is developing a series of "pathways" that students can follow through their GE courses. Future students may be able to select a theme, "sustainability" or "diversity" for example, and choose from a selection of courses related to that topic that fulfill their GE requirements.
"Our experience suggests that students are not always very purposeful in choosing GE courses — it can often become a process of just checking boxes," says Associate Vice Provost Bruno Giberti, who is helping to lead the GE effort. "Giving students an opportunity to be more intentional about how they move through the GE program will make it a more meaningful experience for them."
All of these efforts should combine to make Cal Poly a more attractive option for students and their families, providing a high-quality education and minimizing the time and expense it takes to complete their degrees.
Looking to 2019
As a new year gets underway, progress continues across campus. In 2019, the university anticipates completion of the new Justin and J. Lohr Center for Wine and Viticulture, a facility devoted to providing hands-on learning opportunities in the fermentation sciences and space for collaboration between students and California wine industry professionals. In the coming year, Cal Poly will also break ground on two major new projects: an overhaul of the Kennedy Library and a new interdisciplinary research center funded by alumni donors and with support from the CSU.